---
SEIR Beauty School's Guide To Dermaplaning
Dermaplaning is a highly sought-after facial procedure. Because it's an inexpensive, convenient, non-invasive beauty treatment, it's trendy amongst men and women looking to make their skin look bright, youthful, and radiant. SEIR Beauty School offers a comprehensive dermablading course in Sydney that qualifies students to carry out the procedure confidently. The one-day course is ideal for people already working within the beauty industry. Previous facial training, experience, or the SEIR intensive skin foundation course are prerequisites to this class. To help you figure out whether you'd like to add a certificate in dermaplaning to your resume, the SEIR Beauty School team has put together a short introductory guide to the popular procedure.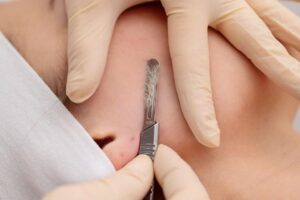 What Is Dermaplaning?
Dermaplaning is a skin treatment that uses an exfoliating blade to remove dead skin cells and hair from the face. Being exposed to harmful toxins, irritants and UV rays daily can leave our faces looking dull. Dermablading usually lasts 20-30 minutes as the face is slowly exfoliated.
The Benefits of Dermaplaning
Dermaplaning offers a host of benefits to clients, including;
Brighter, more radiant skin
Reduction of acne scarring, pigmentation, and pockmarks of vellus hair on the cheeks and neck
Helps the skin look more youthful, reducing fine lines wrinkles, and other signs of aging
Makeup, especially foundation, sits more smoothly on the skin allowing for better coverage
Why Is Dermaplaning An Important Skill To Learn?
For any professional working in the beauty or skincare industry, dermaplaning is a very valuable skill to add to your resume.
Give your clients options. If you offer facial services such as dermabrasion, it might benefit your business to provide alternative services such as dermaplaning. SEIR Beauty School's dermaplaning training in Sydney is a single-day course, so your clients will have access to new treatments sooner.
Prevent clients from doing it at home. Although dermaplaning is a procedure that should only be carried out by a professional, many people will attempt it themselves if they can't find someone qualified to offer the treatment. By adding this certification to your services list, you'll ensure your clients see a professional rather than taking things into their own hands.
Your employers will love you. If you don't own your own business, you may want to upskill to make yourself more valuable to your current employer. If your employer has been considering offering treatments such as dermaplaning, make sure you jump in early and become qualified with our dermaplane facial course.
What You'll Learn With SEIR Beauty School's Dermaplaning Course In Sydney
In our comprehensive dermaplaning class, you'll learn everything you need to carry out dermaplaning procedures with confidence. Throughout the course, you'll;
Undergo refreshers on cell cycles and the skin and learn how these two topics relate to dermaplaning
Learn how to give pre-care and after-care instructions to your clients
Learn about contra-indications and contra-actions
Receive tips, tricks, and industry secrets about dermaplaning such as learning unique techniques
Learn how to conduct a skin consultation analysis and learn which skin types should and should not undergo dermaplaning
Learn troubleshooting techniques and solutions
If You're Looking For A Dermaplaning Course In Sydney, Enrol With SEIR Beauty School Today
SEIR Beauty School is one of the leading providers of beauty training in Australia, and we're proud to offer a wide range of bespoke courses to suit students of all experience levels and backgrounds. We're an iTec registered institution, and our beauty qualifications are among the most prestigious in the world. The qualifications you'll earn at SEIR Beauty School are internationally recognised, so your beauty career can take you anywhere in the world. With one-on-one training, interactive learning experiences, highly experienced educators, ongoing support, training, and mentoring; SEIR Beauty School can set you up with the tools for an exciting career in the beauty industry. If you're interested in undertaking a dermaplaning course in Sydney,
you can enrol with SEIR Beauty School today
. We can't wait to see where your career in beauty takes you.