DAY CLASS

5 CONSECUTIVE DAYS

10AM - 5:30PM
---
Facial Courses Sydney
5 Reasons To Enrol In SEIR Beauty School's Facial Courses
If your life is feeling a little mundane or repetitive, you wouldn't be alone. One in three Australians reported feeling unmotivated, bored or drained in their day-to-day jobs. One way to change your life and bring excitement back into your days is to enrol in a course! SEIR Beauty School offers a range of facial courses in Sydney that are perfect for beginners and beauty industry professionals alike, so no matter where you are in your career, we have an option to suit everyone. Here are five reasons to enrol in one of our advanced facial courses today!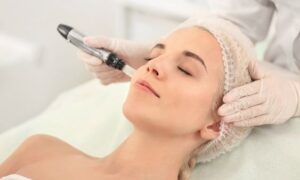 Upskilling
SEIR Beauty School's advanced facial courses are always up-to-date with industry best practice, so it can often be well worth taking a look to see what you could learn with a skin specialist course.
Update your knowledge. If you've been working in the beauty industry for a while, you'll know first-hand just how quickly things can change and evolve. The technology, techniques, and procedures are always adapting, so take a few days to refresh your skills with one of SEIR Beauty School's skin courses.
Offer something new to your clients. If you offer a handful of facial procedures already, it can never hurt to add a couple more to the list. Your clients will appreciate only having to go to one professional for all their facial needs, and you'll be sure to attract new clients with your improved services.
Earn a pay raise. If you work in a salon or spa, have a chat with your manager and find out if there are any skills you could earn to improve your chances of a promotion or pay raise. Go through the skin courses on offer at SEIR Beauty School with your employers and determine what they would like to do to improve the business.
Change Your Career
If you wake up every morning feeling dread about facing work, it's time for a career change. SEIR Beauty School offers many facial courses in Sydney, so you're bound to find something that fills you with excitement.
Advanced Skin Knowledge course. Have you ever wondered what facial treatments are doing to the skin? Or perhaps you'd like to learn how to analyse a person's skin type and recommend the perfect facial for them? Our Advanced Skin Knowledge course is ideal for those wanting to launch a successful career in the beauty industry.
Skin Specialist and Facial course. SEIR Beauty School is proud to offer one of Sydney's most comprehensive facial and aesthetics training courses. It covers absolutely everything you need to know to become a fully qualified skincare professional. Learn the theory and science behind facial treatments and put your learnings into practice with hands-on practical assessments.
Start Your Own Business
If you've got an entrepreneurial streak and your dream is to launch your own business, SEIR Beauty School's facial training in Sydney will set you up with the tools for success in the beauty industry.
Learn the treatments and procedures. Our facial courses in Sydney cover a range of procedures that allow you to offer your clients a wide array of services. From masks to massages, you'll learn everything you need to provide a relaxing, rejuvenating experience for your customers.
Business mentoring. SEIR Beauty School offers a range of courses that help aspiring business owners to launch their brand. Our classes provide students with guidance on customer service, managing staff, boosting productivity and morale in the workplace, increasing revenue, social media and marketing, and other useful advice to help their businesses succeed.
Access ongoing support and training. Once you've completed your course, you'll be able to access lifelong support and additional training where necessary. You'll never fall behind on industry innovations, and you can ensure your business is always at the forefront of new techniques and technology.
Challenge Yourself
One of the best reasons to enrol in a course and study something new is to challenge yourself. Putting yourself outside your comfort zone and learning a new skill is so beneficial, so why not enrol in our facial course in Sydney and see for yourself the positive outcomes of a new challenge.
Grow as an individual. When you try something new, you learn more about yourself. You'll discover what you like and don't like, what you're good at, and you'll be able to reflect upon things you're not so good at, thereby improving your introspection skills.
Motivate yourself with success. Nothing feels quite as good as achieving a goal. SEIR Beauty School facial courses are designed with the students at the forefront, so we do everything we can to see you flourish in your studies. When you achieve a certificate, diploma, or qualification through SEIR Beauty School, you'll be empowered to reach for the next goal.
Have fun. If you're looking for an opportunity to try something new, meet new people, and have a bit of fun, SEIR Beauty School's facial courses in Sydney could be the answer. We offer small class sizes and hands-on face-to-face instruction, so you're guaranteed to get the attention you need and have fun while you learn.
Get An Internationally Recognised Qualification
Who hasn't fantasised about waking up in a new country every week and working all over the world? With SEIR Beauty School's advanced facial courses, you'll gain internationally recognised qualifications. We're registered with iTec, and our courses are some of the most prestigious in the world. When you graduate from our skin courses, you can take that qualification internationally.
Work in a luxury spa. Picture it; giving skincare treatments to people in a luxurious Swiss spa overlooking the Alps. With a qualification from SEIR Beauty School, that fantasy could be a reality.
Work on a cruise liner. If life on the open seas calls to you, why not gain your skincare and facial treatments qualifications and apply to work on an international cruise line? You'll get to work with new people all the time and enjoy a unique, fun-filled lifestyle.
Work where you want to work. Whether you want to work on the coast of France, in the middle of New York City, or a 5-star resort in Dubai; SEIR Beauty School can set you up with the qualifications for success anywhere you want to be.
If You're Looking At Facial Courses In Sydney, SEIR Beauty School Is The First Choice
SEIR Beauty School is one of the leading providers of beauty training in Australia, and we're proud to offer a wide range of bespoke courses to suit students of all experience levels and backgrounds. We're an iTec registered institution, and our beauty qualifications are among the most prestigious in the world. The qualifications you'll earn at SEIR Beauty School are internationally recognised, so your beauty career can take you anywhere in the world. With one-on-one training, interactive learning experiences, highly experienced educators, ongoing support, training, and mentoring; SEIR Beauty School can set you up with the tools for an exciting career in the beauty industry. If you're interested in undertaking a facial or skin course in Sydney,
you can enrol with SEIR Beauty School today
. We can't wait to see where your career in beauty takes you.